Last year was all about bringing an edgier palette into the home, with vibrant reds, modern metallics, and variations of the statement black accent wall. Unlike 2018's color trends, 2019 has taken a more mindful, lifestyle-based approach to the development of new shades. Some of our favorite paint brands—including Benjamin Moore, PPG Paints, Sherwin Williams, and of course, Pantone—have released their colors of the year, with exciting shades that are worth dipping your brush into.
From powerful aquas to soft terracottas, deep greens, and energizing corals, these companies are connecting the dots between consumers' lives and the spaces they're surrounded by. Whether it's counterbalancing our fast-paced lifestyles, embracing our modern digital engagement, or simply tapping into the shift toward bolder design, these color picks are inspired by what ultimately matters most: the people who inhabit each space.
If you're looking to dive into your home refresh by indulging in new hues, check out 2019's top color trends, along with how to use them in your own home now.
1 OLIVE GREENS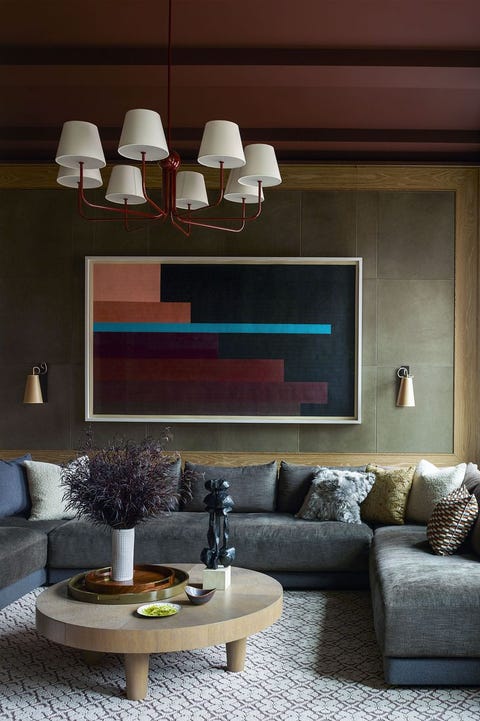 Eric Piasecki
While olive green is an undeniably timeless shade, 2019 has been the year of embracing this versatile color in interior design schemes. It's peaceful yet rich, serene yet statement-making, and can stand out or blend in with so many design styles. "We love olive green because it's so transformative," says designer Allison Petty. "Place it easily with neutrals or have some fun and pair it with a bright saturated color for a fun and energetic space."
2 RICH BRONZES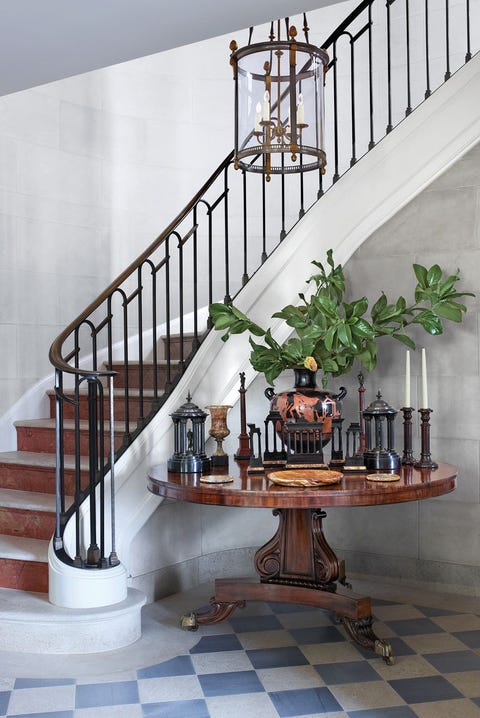 Simon Upton
"We're seeing a lot of this rich bronze, clay colors in 2019," says designer Wendy Hammerman. "While they're a little reminiscent of the traditional Southwestern feel, the context is much more modern and industrial, which adds both drama and warmth to the space."
3 NEUTRALS WITH POPS OF BLUE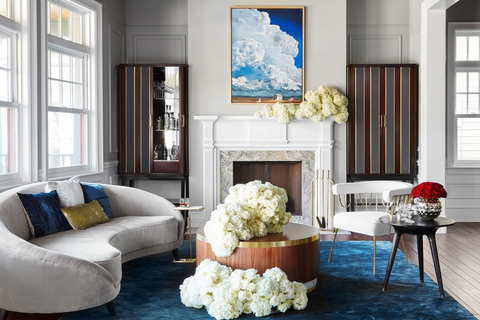 Dustin Halleck
For the slightly color-averse, many designers are bringing pops of blue into neutrals spaces for a perfect accent that never overwhelms. "A neutral color palette with pops of blue is a color trend we've been seeing as of late and we are totally loving it, says designers Caroline Grant & Dolores Suarez. Grays, taupes, and off-white's show off and highlight the furnishings and textures within a room and a cool blue is the perfect accent."
4 70S MOD SQUAD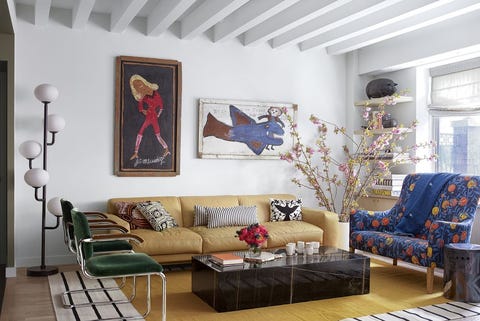 William Waldron
"As each new decade loses its distinctiveness, the iconic palettes of the past are alluring and thriving, says designer Rayman Boozer.
"With its rich, sunset oranges and yellows, homey browns, and comfortable denim, the disco decade is roaring in 2019."
5 JEWEL TONED ACCENTS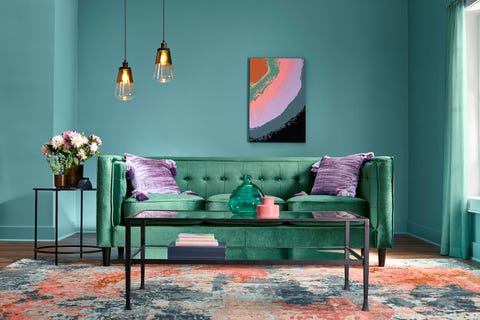 Sherwin Williams
In 2019, bring pops of color into your favorite spaces with jewel-toned furniture and accents. 2018 was the year of the neutral palette, and 2019 is all about finding balance with appropriate doses of color. "Built-in bookcases painted in blues or greens create a beautiful backdrop for antique book spines, says designer Janie Molster. "Treat a kitchen island with color such as a marine blue while leaving perimeter cabinets in neutral white. Accenting interior doors with paint or fabric is a dynamic color pop."